Workshop Experiences
One of our goals as a storefront is to offer an experience from the moment you step inside. It is the inspiration for our candle pouring workshops held in our in-house studio along with artisan workshops, where we feature other local makers from our community. 
Scroll at length to learn more about our different workshops. To reserve a seat for one or both workshop experience(s), please click on the intended event and follow accordingly. 
About Our Candle Pouring Workshops
What You Can Expect
Workshops are family style - first come first serve for the daily reservations.
Each workshop will run approximately 1.5 hours.
You will select your candle scent from the candle collection currently in rotation.
One candle is made per workshop.
Candles must have time to cure before being taken home. You can come back the next business day to pick your candle up or have it shipped to you for an additional shipping fee.
Our workshops are for those 18 years or older.
Ages between 14-17 can pour their own candle, however, a parent or guardian must be present for the workshop's duration. The parent or guardian is welcome to make their own candle alongside the minor participating at an additional standard fee ($50). Parents/guardians must sign the waiver for the minor participating. 
A child age 7-13  can be accompanied by an adult, with the adult handling any pouring of wax.
A waiver will be signed before the start of the workshop for each participant. 
Please feel free to bring a non-alcoholic beverage to enjoy during the workshop.
Pricing
Each workshop is $50.
If a child (age 7-13) is participating with an adult, the fee is $70 to accommodate for the extra chair used. 
Private Workshops
If you prefer a private workshop for a group, that can be arranged. This can be done during store hours or outside of store hours. A fee will be included for either of those options.
If either of those options are of interest to you, please call us 540-449-0277 or email us hello@thechandlerie.com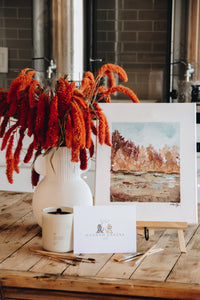 About Our Artisan Workshops
Our Artisan Workshops feature other local makers from our community and are hosted in our in-house studio space on a monthly basis.

You will enjoy a guided creation by the artisan, a light charcuterie spread, unique refreshment, and a complimentary 10% discount during private shopping in the store once the workshop portioned has concluded.

Each artisan workshop will vary depending on the craft at hand, but all will offer a unique taste of a particular craft. Check in monthly to discover which artisan is presenting a memorable event!