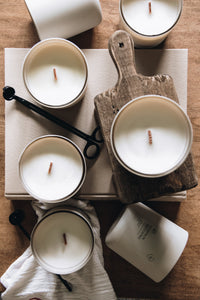 A Glance at our Candles
Hand-poured in the mountains of Virginia, our candles evoke the ambiance of home; the magic of traditions; and the simplicity of joy.
Natural soy wax
Eco-friendly wooden wicks that crackle while burning
Phthalate-free, paraben-free, quality fragrances for a clean burn with an exceptional throw
Sustainable/reusable glass vessel 
Recyclable packaging
approx. 78 hours of burn time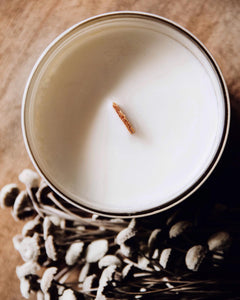 Our Process
Design
Every aspect of our candles is designed by The Chandlerie's creator, Astleigh. From the vessel and labels to the packaging, the details are intentionally thought out to offer a candle that is not only quality, but also aesthetically pleasing.

Curate
Each line of candles is carefully curated to offer aromas that will evoke nostalgia or pair special moments with specific scents throughout the year. Our goal at The Chandlerie is to bring you a candle that intertwines seamlessly into the little and big moments of life, sparking feel good memories every time you light the candle. 

Pour
After the fragrances have been selected for each line, the pouring begins. Weighed to an exact increment for consistency across every candle, the fragrance oils are added to the melted soy wax. Once a desired temperature is reached, the scented wax is poured into the vessels and the wooden wick is added.

Candle Naming
Every candle is named based on the image that each fragrance brings to mind. From there, the description - found on every product page - is written to tell a story that best encompasses the characteristics of the candle's scent.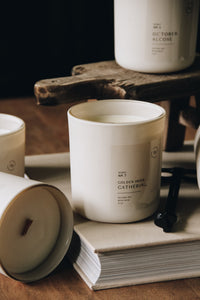 Candle Care
With the proper care, our candles are a wonderful addition to your home -creating warmth and memorable scents year round.

Before Burning
Keep the wick trimmed between 1/8" to 1/4" for the best burn, a low flame, and exceptional throw
Place the candle on a stable, heat-resistant surface.
Keep top of the candle free of any wick trimmings or debris. 
While Burning
Never touch or move a burning candle.
Be sure to keep lit candles in your sight; do not leave a candle unattended.
Make sure your candle is placed away from other objects.
Burn a candle for no more than 2-3 hours at a time.
Extinguishing
Before extinguishing the candle, let the top layer of wax fully melt.
Use a snuffer to put the candle out, to keep from splattering hot wax.
For more frequently asked questions about our candles, visit our FAQs page!